If you love to decorate your home as much as I do, you are going to love this 24 spring home décor crochet patterns round up. From baskets to blankets, there is something for everyone. From the moment someone walks in your front door, you can create a warm and inviting encounter with a few simple, well-placed items.
Crochet Baskets
Baskets can keep things tidy, which makes your space more appealing. They can also hold flowers for visually-pleasing décor.
They say the first impression is everything. Your guests will immediately feel welcome when they are greeted with this May Day Basket by Made With a Twist. Find the pattern HERE
A tidy home when guests arrive will be so much simpler with this Handy Storage Basket by Sunflower Cottage Crochet. Find the pattern HERE
Bring the flowers inside to make a room cheery and bright. Easy to do with the Spring Tulip Basket by me, Simply Melanie Jane. Find the pattern HERE
Coffee tables and end tables need a little dressing up with this Mason Jar Cozy by Crafting Each Day. Find the pattern HERE
Spring Home Décor Blankets
Although you may think of blankets as useful for keeping warm, a perfectly placed blanket on a piece of furniture can tie a room together.
Sunflowers brighten the day, and this Modern Sunflower Plaid Blanket by Accessorize This Designs is no exception. Find the pattern HERE
A beautiful blanket to accent an armchair. The Sebastian Crochet Blanket by Lakeview Cottage Kids is perfect to cuddle under while reading your favorite book. Find the pattern HERE
There is just something about a granny square and when you pair it with a flower, who can resist it? The Flower Granny Square Throw from Made by Gootie is irresistible. Find the pattern HERE
The Tulip is definitely a harbinger of Spring. As it is one of my favorite flowers, I felt compelled to design the Tulip Blossom Pillow and Blanket Bundle. Find the pattern HERE
Wall Hangings and Wall Décor
Wall hangings are a chance for us to showcase our personality by what we choose to display.
A fun wall hanging can be a wonderful conversation piece like the Dandelion Drops Wall Hanging by Fiber and Fox. Find the pattern HERE
Mandalas are a very unique and elegant art and make your wall a statement piece. This Lace Mandala Wall Hanging by Desert Blossom Crafts certainly fits the bill. Find the pattern HERE
The Plumeria Petals Wall Hanging by The Loophole Fox was inspired by the Plumeria flower, and it will look stunning on your wall. Find the Pattern HERE
You will learn some history when you visit the Mission Inn-Bell Wall Hanging pattern at My Fingers Fly. Find the pattern HERE
Here we have the ingenious idea to combine crochet and canvas to create Rainy Day Crochet Wall Art. This cleverness comes from Golden Lucy Crafts. Find the pattern HERE
More beautiful Wall Art, Spring Heart Wall Décor from Golden Lucy Crafts. Find the pattern HERE
Plant Cozies
Popping a plant cozy on a plain boring pot can liven up a room and inspire you to become a green thumb.
How beautiful is this Bobble Pop Plant Cozy by Sweet Bee Crochet? Loaded with texture, too makes it a win-win. Find the pattern HERE
This Decorative Crochet Hanger also by Sweet Bee Crochet is not only pleasant to look at but multi-functional as well. You could choose to use a mason jar instead of a pot. Find the pattern HERE
Spring Home Décor For Your Table and Kitchen
The table is the centerpiece of our dining area and a central gathering place for our family, therefore, creating a pleasing atmosphere makes it a more enjoyable experience.
Protect your table in a beautiful way with this Boho style Flower Garden Diamond Coaster Mug Rug by Nana's Crafty Home. Find the pattern HERE
A stylish table runner can be the focal point of your dining space. The Ava Table Runner by Sunflower Cottage Crochet brings the focus to the beautifully textured stitches. Find the pattern HERE
Can coasters be functional and pleasing to the eye. Of course! Case in point, the Forget Me Not Lacy Coasters by Desert Blossom Crafts. Find the pattern HERE
Make this lovely Sunshine-Y Towel by Sunflower Cottage Crochet to match your kitchen scheme. Find the pattern Here
Tissue Box Covers for Spring Home Decor
Covers for tissue boxes help to jazz up your bathroom or tie into a themed room.
We all know a unicorn lover in our lives. I'm a huge unicorn fan myself. So is my granddaughter. I made her this Unicorn Tissue Box Cover. Find the pattern HERE
Calling all dog lovers! This cute Dog Tissue Cover by TimmelCrochet is sure to make your guests smile or make it as a gift for a dog lover. Find the pattern HERE
Bunting
Bunting is a quick and easy way to add a splash of color to your mantel or outdoor area.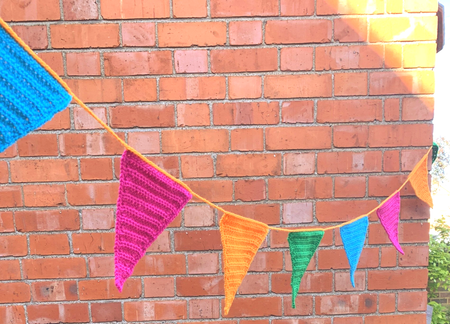 Make an Easy Summer bunting by Cosy Rosie UK to celebrate any occasion. Outside for a BBQ or birthday. Inside, across your mantel for holidays or an every day decoration. Find the pattern HERE
Use this cute Mini Crochet Bunting also by Cosy Rosie UK atop a gift, or cake. Add fairy lights and string it across your mantel or outdoor patio. Find the pattern HERE
Here are some other home décor patterns on my site you may be interested in:
I'm sure you found a few new spring home décor items that will be finding a new place in your home. Most of them would also make fabulous housewarming gifts. I would absolutely love to see your makes, so please tag me on Instagram or Facebook @simplymelaniejane or share in my Facebook group.
Thank you so much for visiting. Please come again soon. Have a Happy Day!
Melanie